---
News
Jan 14, 2022
Weekly Bulletin
COMPACT
St John the Apostle Parish
A Missionary of the Sacred Heart Parish
Third Sunday of Advent                                      Year C 
12 December 2021                                            #03.22
_________________________________________
REFLECTION 

_________________________________________
God came to us as a Baby
We often think that we can bargain with God to get the best possible deal out of life. The problem with this bargaining image is that it is based on faith that does not believe in Advent. The bargaining image of God is the furthest thing from the mind of the writers of today's readings – Zephaniah, the Canticle from Isaiah, Philippians and Luke. Each of them rejoices in the undeserved gift God gives to the world. We do not deserve God's love given to us in the Babe of Bethlehem. It is God's overflowing goodness which pours out in Jesus and through him and the Spirit we have been welcomed into the family of God and bear his name.
These Scriptures remind us that God has not held back one thing in his love for us. By becoming one with us in our flesh, God has done everything he can to assure us of his saving love. He has shown us all what can be shown about how to live lives of sacrifice, justice and love to transform our world.
In today's Gospel John's disciples are full of wanting to know what they can do to earn God's love. The crowds, tax collectors and soldiers ask what they can do to gain God's favour. While there is much to do, Advent reminds us every year that all we do is a response to the initial, undeserved goodness of God.
Still the image of us 'doing a deal' with God is so prevalent in our theology and prayer. 'I will be a better person if I get well.' 'I will return to Sunday Mass if I pass my exams.'
All dreadful stuff. And the Church has to take some responsibility for this and correct it.
Advent teaches us that we have to witness to a God who risked everything so that we might know love and life in this world and in the next. We hold and proclaim, in season and out of season, a God who emptied himself of power and might and came to us as a baby.
That's not the profile of a deal-doer. It's the portrait of a lover.
Resources used: Homily, by Richard Leonard SJ
_________________________________________
Heart Spirituality
_________________________________________ 
 Communion
Our trust in Jesus Christ is based on his goodness. His incomparable goodness gave us his death, his Church, his sacraments his Heart, his divine Mother.
Jesus loved me and gave his life for me (Gal 2:20). After so many signs of love, could we hesitate in showing him boundless trust? Moreover we shall obtain from his Father everything that we ask for in his name. Whatever our weakness, our temptations and even our failures, let us drive away all discouragement and open our hearts to trust. Why are you fearful?
Let us cast ourselves without hesitation into his Heart.
He will not let us perish.
 Jules Chevalier msc 
Meditations I, p. 223ƒ Issoudun, 1891
  May the Sacred Heart of Jesus be everywhere loved……….forever!
________________________________________
---
Stewardship
________________________________________
 Making our lives a gift
When the crowds hear John the Baptist's message that their Saviour is coming, they ask him what they should do to prepare. He responds, "Whoever has two cloaks should share with the person who has none. And whoever has food should do the same." He tells tax collectors to stop collecting more than is prescribed and soldiers, to be satisfied with their wages. In other words, he tells them to be good and generous stewards of all God's gifts to them!
 
As the great feast of Christmas draws near, let us rejoice in Christ's extravagant love. Let's avail ourselves of the peace He longs to give us. And let's look carefully at our lives to make sure we are indeed making of them a gift fitting for Him.
_________________________________________
NOTICES
_________________________________________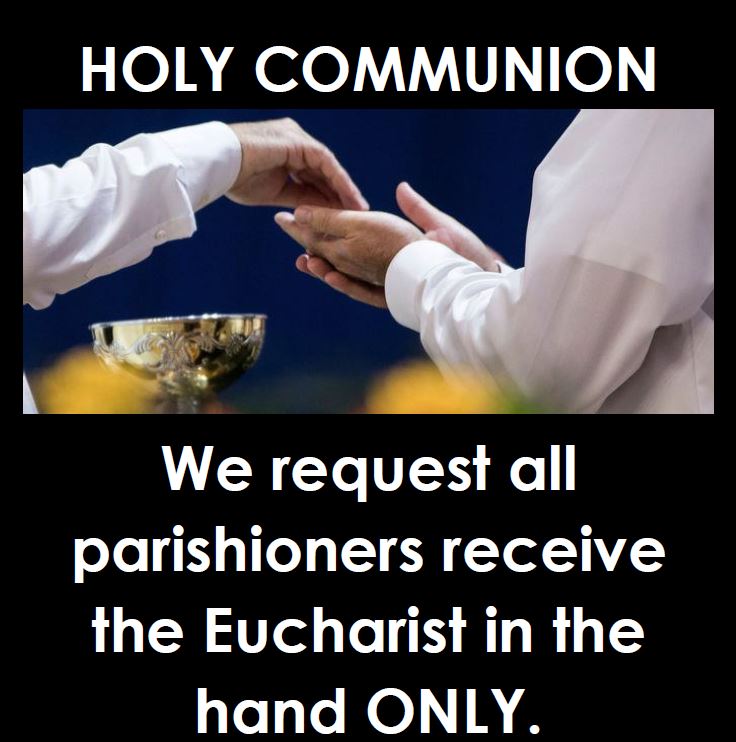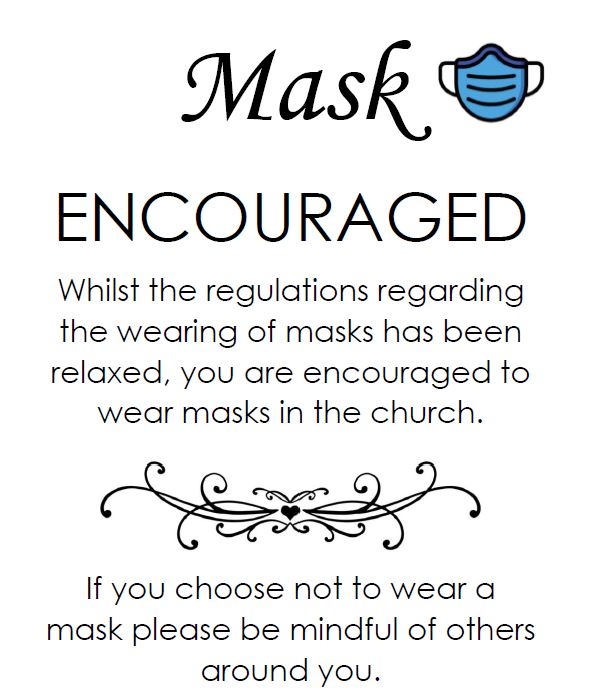 Vinnies Christmas Appeal
Thank you for your generous response to the Vinnies Christmas Appeal. Food items for hampers and children's gifts should be left in the church foyer this weekend. Please include the name tag from the tree with the gift, unwrapped or in a gift bag. You can still sign on to help with hamper delivery which will occur on Saturday 18 December.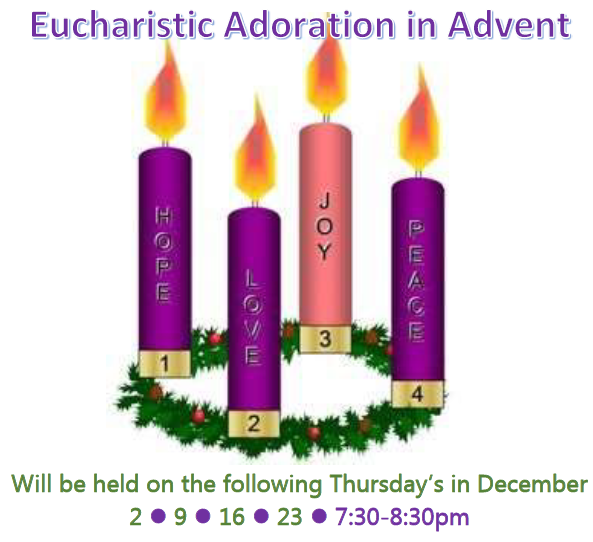 FAMILY CHRISTMAS EVE MASS Friday 24 December – 6:00pm

To comply with COVID restrictions the 6:00pm family mass will be held outdoors.
This will allow us to accommodate as many families as possible.

Eucharistic Ministers Required
Eucharistic Ministers are needed at Calvary John James, Deakin. Available shifts on all 7 days, one hour per month. WWVP card required + COVID vax, Police Check done on acceptance.
Email the Volunteer Coordinator on samantha.thirkettle@calvarycare.org.au (preferred) or call 6281 8112. Be the hands & feet of Christ in the world. 

Parish Pastoral Council

As 2021 is drawing to a close the PPC is looking forward to 2022 when we will celebrate our 50th anniversary. With this in mind we are asking parishioners to give their prayerful consideration to joining the Pastoral Council. Ideally our Pastoral Council should reflect the diversity of our parish. If you feel you are being called to share your time and talents in serving the parish through this ministry, please telephone the parish office to register your interest.

 Reconciliation Action Plan (RAP) – Parish Plan.
Are you interested in being part of Aboriginal Reconciliation efforts and actions focused for our Parish community?
The PPC is looking for interested people who may want to be part of developing our own St John's RAP.
More info about RAPs -

www.reconciliation.org.au
Please contact Parish office if you would like to be part of this work.

SJA Men's Group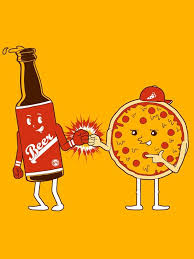 Meets Monthly
6:00pm – 8:00pm
Next gathering: Friday 17 December
End of year BBQ on the deck
St John the Apostle Parish Presbytery

St John the Apostle Women's Breakfast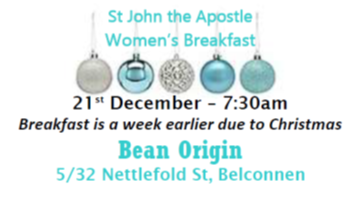 21st December – 7:30am
3rd Tuesday of the Month – a week earlier due to Christmas 


 Bean Origin 
5/32 Nettlefold St, Belconnen

Parish Office Hours over the Christmas break
The parish office will be closed from
Saturday 25 December 2021 and will re-open on 
Wednesday 5 January 2022  

 Volunteers Needed
Refugee Resettlement Committee [RRC] of St John's  
There are refugee and Afghani families that could arrive and would be in need of support. The RRC would like to assist a family for several months to resettle in Canberra but we need help. If you can volunteer your time, or would like to buddy with someone and share the load (e.g. mentoring; or tutoring; or transport) could you please contact Sigi Kropp or Kim Wilson for more information through the Parish Office.
A Working With Vulnerable People card is necessary (this can be arranged)

  COLUMBAN ART CALENDAR 2022
Now available in the bookstore $10.00 

  Over 45's will not be returning this year.
We hope to have our first gathering in January 2022.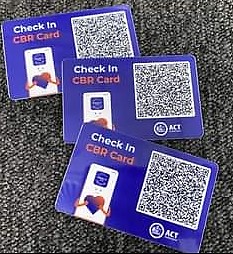 Check In CBR card
A Check In CBR card is now available, designed for those people who do not own a smartphone or who are unable to download or use the Check In CBR app.
The card contains a unique QR code which can be scanned at the majority of businesses and venues across the ACT. The link to apply for a card is https://www.covid19.act.gov.au/stay-safe-and-healthy/check-in-cbr-app#Check-In-CBR-card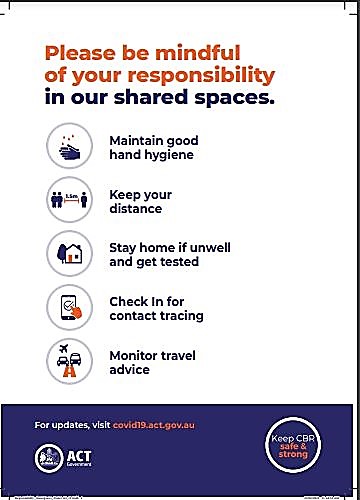 Institution of Acolytes
The parishioners listed below have been discerning their call to the Ministry of Acolyte. They will be installed into the Institution of Acolytes at a date to be advised.
Joe Catanzariti
Helen Kennedy
Sigi Kropp
Joy McInerney
Anthony Jayawardena
Peter Polkinghorne
Maria Scarr
Elaine Carter
Maryanne Ferguson
Keran Niquet
Anthony Noakes
Sabina Van Rooy

Mass Intentions the week of 13 - 19 December
| | |
| --- | --- |
| Mon 13/12 | Elizabeth Hallahan |
| Wed 15/12 | Available [contact the office] |
| Thur 16/12 | Fallace Family Members |
| Fri 17/12 | Available [contact the office] |
| | |
| --- | --- |
| Sat 18/12 |   |
| 6:00pm | Available [contact the office] |
|   |   |
| Sun 19/12 |   |
| 8:30am | Available [contact the office] |
| 10:00am | Available [contact the office] |
| 6:00pm | Available [contact the office] |
    To ensure that a mass time is available please telephone the parish office to make a booking.  

 Let us pray for those who are sick - we remember them in our Masses.
Recently Deceased:    
Anniversary: John Ashton, Ian Loiterton, Michael Allars, Andre Domjan, Daniel Morris, Raymond Kernan, Patricia Jacobs, Yvonne Dunn, Bernadette Anetts, Branko Kukolic, Kathleen Randall, Michael Gunning, Amy Carney, Edward Clifford, John MacKay, Marie Cody, Robert Carew, William Roots, Christopher Fizsimon, Kathleen Edmunds. 

ROSTERS
19 Dec          Lector Roster
| | |
| --- | --- |
| 6:00pm | Joe Catanzariti, Judy Netting |
| 8:30am | Carmel Screen, Darren Maharaj |
| 10:00am | Libby Kain, Joe Ots |
| 6:00pm | Matthew Garton, Terry Fewtrell |
19 Dec                   Ministers of Communion
| | |
| --- | --- |
| 6:00pm | Janet Almond, Maria Catanzariti |
| 8:30am | Fay Stephenson, Theresia Suh |
| 10:00am | Sugi Mohanadas, Ann Reynolds |
| 6:00pm | Brian Mahony, James Cox |
19 Dec                   Hospitality Roster
| | |
| --- | --- |
| 6:00pm | Carol Moore, Marie McKie |
| 8:30am | Clyde & Norma Sloan |
| 10:00am | Marie Flit |
| 6:00pm | Brian Mahony |
Weekly Rosters
| | | |
| --- | --- | --- |
| Altar Society:         | 12 Dec | Pat Gilchrist |
| Grounds | 18 Dec | VACANT |
| | | |
| --- | --- | --- |
| Church Cleaning: | 13 Dec | VACANT |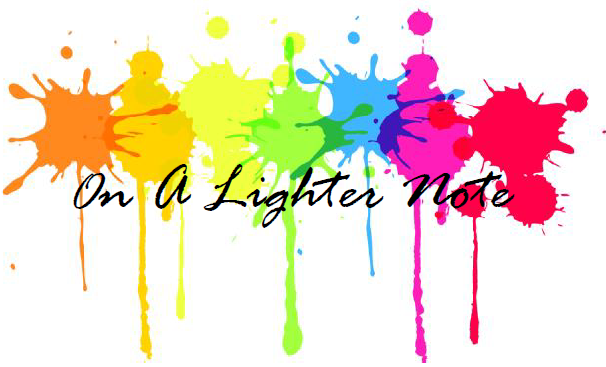 Q: Why didn't Rudolph make the honour roll in school this marking period?
A: Because he went down in History
Q: Did Rudolph go to a public school?
A: Nope – he was elf-taught.