---
News
Aug 28, 2023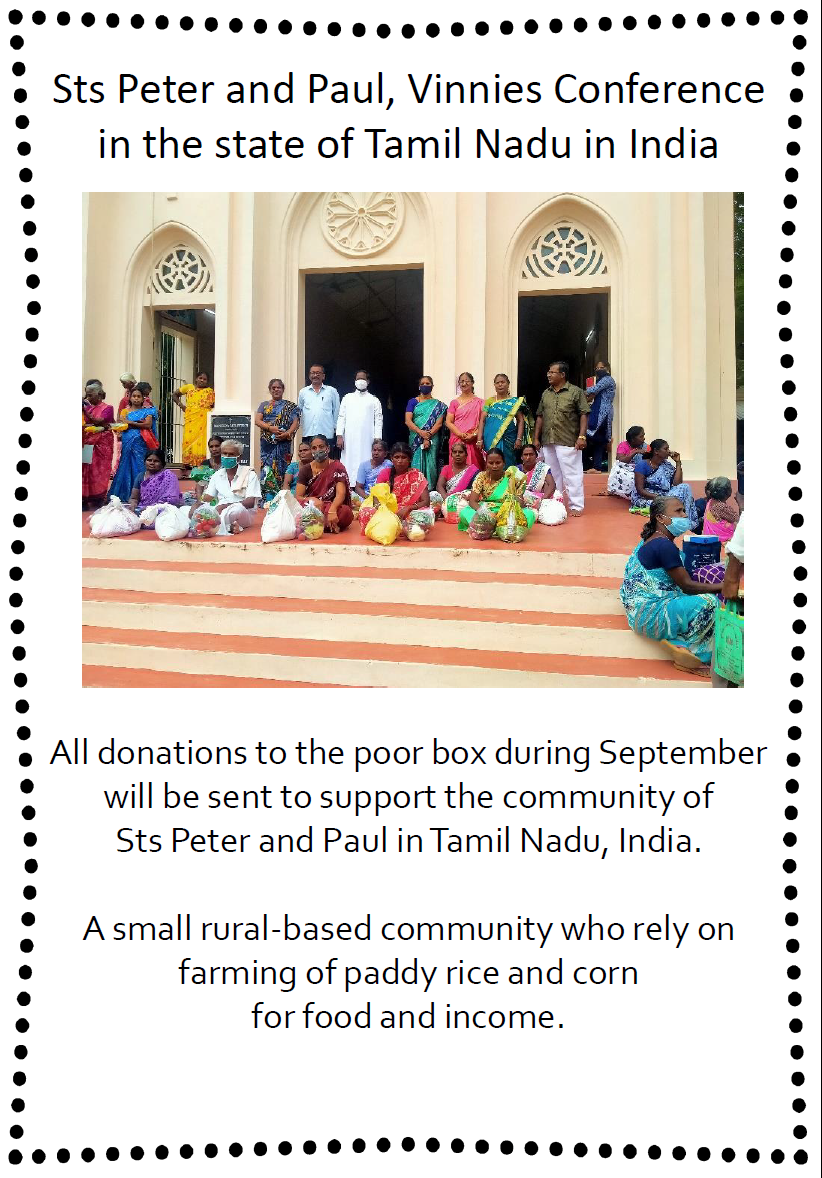 Refugee Resettlement Committee
The Refugee Resettlement Committee is a not-for-profit Parish based organisation run by volunteers. It is politically independent and is not reliant on government aid. Running costs are met from funds raised within the community.
MISSION STATEMENT AND GOALS
Our Mission is to undertake activities that facilitate the settlement of refugees* and their families into Australian society, with dignity and hope.
Our goals are to: 
provide direct assistance and advocacy to refugees and their families




to facilitate settlement into Australia provide friendship and social opportunities to encourage refugees and their families to become involved in Australian community life contribute to the formation of favourable Government and community policies that affect the experience of refugees and their families 

*includes new arrivals under the Special Humanitarian Program, asylum seekers and  all other refugees whether their status was recognised before or after their arrival in Australia.





Note that asylum seekers in community detention while seeking refugee status are expected to be an increasing call on our services.

OUR COMMITMENT
RRC volunteers are committed to the provision of direct practical assistance to refugees from arrival until they can meet their own material and social needs, independently.
Our volunteers advocate for:
refugees to receive their rightful entitlements and development of equitable and compassionate policies, procedures and outcomes in dealings with refugees.

WHO DO WE HELP?
The Refugee Resettlement Committee helps refugees living in the north side of Canberra, Australia only.
Within our resources, including geographical limits, we assist refugees in need whether they are under permanent resident visas or other visas issued to asylum seekers pending resolution of their status.
HOW DO WE HELP?
Potential refugee clients may be referred to us by our current clients, women's refuges and providers of emergency accommodation, such as YWCA, as well as by local settlement agencies including the Migrant and Refugee Settlement Services, Red Cross, Companion House and the St Vincent de Paul Society. In helping to provide settlement services for the refugee clients, whom we accept after assessment, RRC volunteers liaise with the above organisations, and other settlement, welfare, community organisations. These include local Community Centres and cultural organisations such as Multicultural Youth Services. The RRC also liaises with the ACT and Federal Government Departments and agencies including Centrelink and Medicare. Some of the above organisations provide information, training and support for RRC volunteers.  
The practical face to face services that RRC volunteers may provide to newly accepted clients varies with the length of time they have been in Australia. These services may include welcoming them and helping them with shopping and with settling into new accommodation. RRC volunteers provide transport, company and support in dealing with banks, medicare and Centrelink: and with schools or child care for their children and English classes for adults. We help refugee clients seek long term accommodation and in dealing with Housing ACT. We help them to use public transport, libraries and other community services.  
We visit them in their homes and help them understand how to operate appliances: We provide them with local information, help them understand letters from government agencies and schools and pay bills. We offer friendship and social support and take them on outings to help them avoid social isolation or social exclusion We provide transport and support in keeping health related appointments and accessing chemists, pathologists , etc. We help them to learn to use buses and understand bus timetables and in their search for more permanent accommodation. We then assist with their relocation. Settlement may take several years and we help them meet their changing needs by accessing specialist services."  
MEMBERSHIP
An Executive of up to 7 members is elected annually. The Executive provides leadership and develops policy to identify and help meet the needs of members and refugees. In addition to dealing with all administrative matters associated with the operation of the Committee, including the distribution of Newsletters and general information, the Executive arranges meetings of the general membership as well as organising training and mentoring as necessary.  
Registered members can choose to undertake those settlement tasks which best suit their talents and available time. Mentoring can be arranged and general training provided by way of a combination of internal sessions addressed by guest speakers and external sessions provided by various settlement and community organisations.  
As many of the appointments and functions for refugees occur within business hours we have a special need for volunteers available during those times- eg part time workers and retirees. Other activities can be effectively performed in the evenings or at week ends.
WE HAVE AN ONGOING NEED FOR NEW VOLUNTEERS HOW TO JOIN
Registered membership of the Committee is subject to formal interview and an orientation program. Because of the sensitivity of the activities of registered members, volunteers will be required to make a formal undertaking with regard to the Settlement Service Principles and the Privacy and Confidentiality Agreement under which the group operates. Prospective members will also be required to obtain general registration for Working with Vulnerable People under ACT Legislation.
Executive Functions:
President
Vice President
Secretary 
Treasurer 
Membership Officer 
Community Liaison Officer 
Client Liaison Officer 

Note: Where there are insufficient nominations, one person may take responsibility for more than one function.